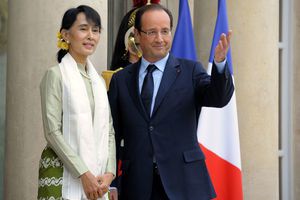 Burmese opposition leader Aung San Suu Kyi has met President Francois Hollande of France on the last leg of her European tour.
The French leader's office released photos of the two meeting in the courtyard of the Elysee Palace.
Foreign ministry spokesman Bernard Valero said earlier that France would pay tribute to her "exceptional struggle for human rights".
Ms Suu Kyi will return to Burma on Friday after her five-country tour.
In France, she is also due to debate with students at the Sorbonne and meet Burma democracy campaigners.
In Norway, she collected the Nobel Peace Prize awarded to her 20 years ago while she was under house arrest during military rule in Burma.
The 67-year-old also became the first non-head of state to address the UK parliament on her first overseas trip in 24 years.
Ms Suu Kyi was voted into parliament earlier this year as part of a democratic transition now under way in Burma, and says part of the purpose of her trip is to persuade European leaders to back that process.
France a 'symbol'
Ms Suu Kyi arrived in France on Tuesday afternoon after travelling by train from London.
She is due to have dinner with President Hollande at the Elysee Palace on Tuesday evening.
During her three-day trip she is also due to receive an award granted in 2004 making her an honorary citizen of Paris and plant a "tree of freedom".
One of the most important parts of her trip will be to meet campaigners - including exiled Burmese citizens - who lobbied for democracy in Burma during two decades of military rule.
"France is a symbol in the heart of many" in Burma, Pierre Martial, the head of the France Aung San Suu Kyi association, told AFP news agency.
"It remains the country of human rights and it is a country that was very mobilised for her.
"Aung San Suu Kyi wanted to truly thank all those who helped her during these long years of repression," he said.
Source: http://www.bbc.co.uk/news/world-europe-18599016